Applications and Nominations »
About Us
About the College of Natural Sciences
The College of Natural Sciences is one of the largest colleges of science in the United States. Centers for research and education stretch across Texas and include the McDonald Observatory in West Texas, the Marine Science Institute on the Gulf Coast, and the Brackenridge Field Laboratory in Austin.
In 2018, U.S. News and World Report ranked 11 of the College's programs among the top 10 in the country:
| | |
| --- | --- |
| Biological Sciences – Ecology/Evolutionary Biology | 6th |
| Chemistry - Analytical Chemistry | 4th |
| Computer Science | 10th |
| Computer Science – Artificial Intelligence | 8th |
| Computer Science– Programming Languages | 8th |
| Computer Science – Systems | 8th |
| Computer Science – Theory | 7th |
| Mathematics – Analysis | 7th |
| Mathematics – Applied Math | 9th |
| Mathematics – Topology | 8th |
| Physics – Cosmology/Relativity/Gravity | 10th |
CNS faculty are highly distinguished and include one Nobel Laureate, 22 members of the National Academies, 20 fellows of the American Academy of Arts and Sciences, one Abel Prize winner, one Turing Award winner, three Wolf Prize winners, three winners of National Medals of Science, one recipient of the National Medal of Technology and Innovation, one Breakthrough Prize recipient, two Steele Prize recipients, one Shaw Prize recipient, one recipient of the ACM prize, and five MacArthur Fellows. Grants from organizations such as the National Institutes of Health, National Science Foundation, Department of Energy, Department of Defense, and the Howard Hughes Medical Institute amount to more than $110 million in external funding each year.
The College is home to award-winning signature instructional programs such as CNS Cornerstones, a program that ensures ongoing support and guidance for students. The Freshman Research Initiative (FRI) connects nearly half of all freshmen and sophomores to experiences in scientific discovery early in their careers to work on real-world research projects that are inspired by faculty research programs. FRI participants have co-authored hundreds of papers that have been published in peer-reviewed journals, and the initiative has been replicated at numerous universities. UTeach, another signature program with national impact, is a collaboration between the College of Natural Sciences and the College of Education at UT Austin that prepares undergraduate STEM majors to become middle and high school science and mathematics teachers so successfully that it has been adopted by 45 other universities across the country.
CNS undergraduate enrollment data are available here: https://reports.utexas.edu/spotlight-data/students. In academic year 2019-2020, 53 percent of CNS graduates were female, and 25 percent were from groups traditionally underrepresented in the sciences.
In 2019, CNS adopted a guiding plan, its Strategic Framework, with five major objectives and areas for action tied to core values:
Advancing People
Equipping UT Students
Breaking Boundaries with our Research
Serving the Public
Committing to Equity
Key CNS accomplishments in the last few years include the following:
From 2016 to 2020, CNS's overall four-year graduation rates climbed by 15 points to 75%.
The College's breadth of research activity continues to grow in areas that benefit from CNS's scope, including biodiversity, origins of the universe, biotherapeutics, quantum information, and robotics. The College established a new Machine Learning Laboratory, as the National Science Foundation selected UT Austin to lead its new Institute for Foundations of Machine Learning.
In collaboration with the College of Liberal Arts, CNS launched the Texas Mindset Initiative using lessons from educational psychology to improve pedagogy and increase students' sense of belonging in science and math.
CNS established new structures and leadership to guide diversity, equity, and inclusion efforts college-wide and gathered input from students, faculty, and staff to help improve the climate within the College; foster recruitment, retention and belonging for members of the community; and hold the College accountable for results. The Assistant Dean for Strategy and Equity Initiatives enlisted a group of graduate student leaders to support implementation and evaluation of related strategic College-wide efforts.
Key strategic initiatives advanced the professional development and growth for faculty and staff throughout the challenging pandemic year. These opportunities included professional development workshops for new faculty in the College, resources and connection opportunities for recently promoted faculty leaders, and programs to deliver support and professional networking for staff.
Biodiversity researchers welcomed the first cohorts of Stengl-Wyer Scholars, postdoctoral researchers supported by the largest-ever endowment in the history of the College, which also supports graduate student fellowships, faculty research, and facilities including the biological field stations.
The College launched three online master's degrees in computer science, data science, and nutritional sciences. These innovative programs allow the University to serve a much larger population of graduate students than can be accommodated by traditional in-person programs.
Several faculty members secured some of the most prestigious awards in science, and the College celebrated newly elected members of the prestigious National Academy of Sciences, the winner of the 2020 Wolf Prize in Physics, and other honors and external recognitions.
The College reopened its largest academic building, the newly renovated Welch Hall, with remodeled classrooms, meeting areas, and administrative offices, as well as laboratories and office space conducive for research in physical chemistry and biophysics, analytical chemistry, biochemistry, molecular biology, statistics, and data science. The project represented one of the largest remodeling efforts in the recent history of the College and comes just ahead of planned renovations for its second-largest building, the Physics, Math and Astronomy building, slated to begin soon.
The University of Texas Austin
UT Austin is part of The University of Texas System which comprises seven other academic institutions and six health institutions. The flagship campus of the UT System, UT Austin is internationally recognized as a leader in research and higher education. It is one of the largest universities in the United States, with approximately 40,000 undergraduate students and more than 11,000 graduate and professional students from across the nation and more than 120 countries. Founded in 1883 and a member of the AAU since 1929, UT Austin offers more than 170 undergraduate fields of study and 237 graduate programs, largely at the doctoral level, which are supported by more than 3,000 faculty and 17,000 staff members. In 2021, UT Austin had the fourth most top 10 graduate programs among all public universities, according to the US News & World Report.
The University's 18 colleges and schools encompass most academic disciplines in the humanities, social sciences, sciences and engineering, performing and creative arts, and health, and include several professional schools. The recent founding and construction of the Dell Medical School at UT Austin has the potential to cement UT Austin's standing among the top public research institutions in the nation.
World-class research facilities managed by the University include the Hobby-Eberly Telescope at the McDonald Observatory and the Texas Advanced Computer Center (TACC), which designs and deploys some of the most powerful supercomputers in the world, and the Oden Institute for Computational Engineering & Sciences. The campus is home to one of the top research libraries in the nation as well as to cultural treasures and collections housed in seven internationally recognized museums, including the Blanton Museum of Art, the Harry Ransom Center, and the Lyndon B. Johnson Presidential Library and Museum. UT is a Founding Partner in the Giant Magellan Telescope (GMT), a next-generation facility currently under construction in Chile.
The University has an internationally distinguished faculty, including winners of the Nobel Prize, Turing Award, Pulitzer Prize, National Medal of Science, National Medal of Technology and Innovation, and the Wolf Prize. Numerous faculty are members of prestigious academic and scientific academies. UT Austin is a national leader in the number of undergraduate degrees awarded to students from under-represented minority groups, and a leading institution in producing Fulbright Scholars, Rhodes Scholars, Truman Scholars, and Marshall Scholars.
Education is central to the mission of UT Austin. Exceptional teaching is recognized and promoted by the UT System Regents Outstanding Teaching Awards, membership in the Academy of Distinguished Teachers, and the Provost's Teaching Fellows Program. In 2021, U.S. News & World Report ranked UT Austin 13th among public universities in the United States and 42nd among national peers.
UT Austin is supported financially by four pillars: state funding, tuition, research grants, and philanthropy. Approximately 12 percent of UT Austin's operating budget comes from state appropriations, with another 22 percent coming from tuition. Faculty and research staff across the University generate approximately $560 million a year in research grants and contracts. The campus continues to develop new revenue opportunities, with an impressive increase in technology commercialization from research. Over the past decade, UT Austin has received $140 million in revenue from the licensing of University technology.
Located near the picturesque Hill Country of Central Texas, Austin is the state capital and the 4th- largest city in Texas, which is among the top-five most diverse states in the nation. As the 11th- largest city in the United States, Austin is widely regarded as a friendly, innovative, and growing city and is consistently rated a national creative center that attracts talented people from across the world. U.S. News and World Report has consistently rated Austin among the top five in its Best Places to Live list.
University of Texas at Austin Leadership
President Jay Hartzell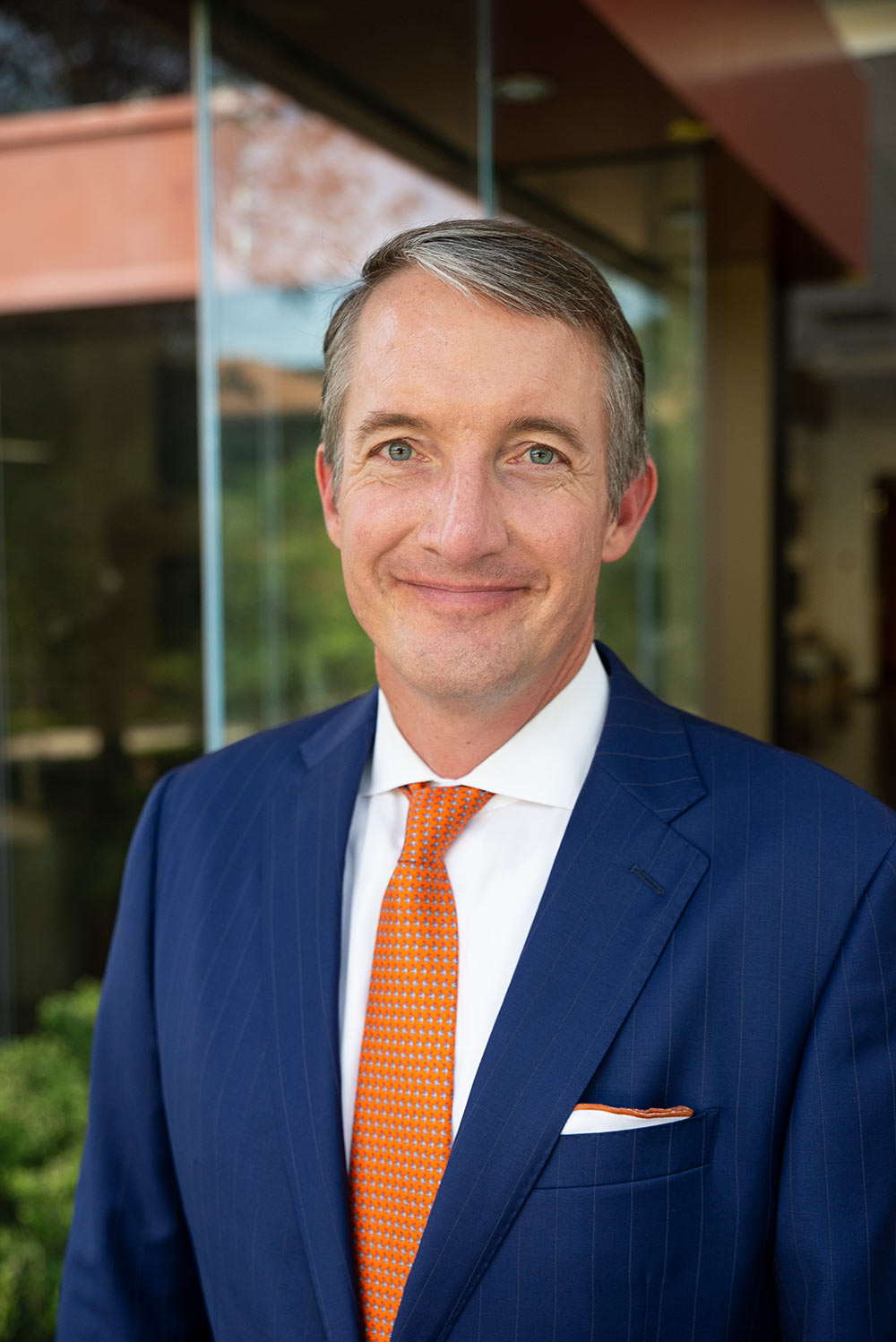 Jay Hartzell is the 30th President of the University of Texas at Austin. He holds the Trammell Crow Regents Professorship in Business. He is also a Texas Ex.
Prior to serving as President, Hartzell served as the 12th dean of the McCombs School of Business at UT Austin, one of the largest and most distinguished business schools in the country. As dean for over four years, Hartzell launched the Goff Real Estate Labs, elevated the Canfield Business Honors program and opened Rowling Hall, the home of UT's MBA program. He helped create many significant partnerships with colleges and schools across campus including the Dell Medical School, the College of Fine Arts, the College of Liberal Arts, the College of Natural Sciences and the Moody College of Communication. He also established the position of Associate Dean of Diversity and Inclusion at the McCombs School and the McCombs Diversity and Inclusion Committee.
Hartzell joined UT in 2001 after teaching at New York University's Stern School of Business. Prior to his time as dean, he held several key administrative roles at the McCombs School of Business. His most notable positions include his service as the senior associate dean for Academic Affairs, chair of the Finance Department and executive director of the McCombs School's Real Estate Finance and Investment Center.
Hartzell holds a B.S. in business administration and economics (cum laude) from Trinity University and a Ph.D. in finance from The University of Texas at Austin. His research focuses on real estate finance, corporate finance and corporate governance. His articles have been published in leading journals in the field, including the Journal of Finance, Journal of Financial Economics, Real Estate Economics and The Review of Financial Studies.
Executive Vice President (EVP) and Provost-Designate Sharon Wood
Executive Vice President and Provost (EVPP) Sharon Wood holds the Cockrell Family Chair in Engineering #14. As the University's chief academic officer, she leads strategic planning for the University's academic mission and ensure academic programs are world-class and aligned with the University's commitment to diversity and equity. She is responsible for academic programs and initiatives across the University's 18 colleges and schools, which serve more than 51,000 students and support more than 3,000 teaching and research faculty. In addition, she oversees UT Austin's libraries and museums, archival collections, research centers, and academic support units and works closely with the deans and other academic leaders.
Prior to serving as Provost, Wood was the ninth dean of the Cockrell School of Engineering at UT Austin. As Dean, she spearheaded initiatives to build the Engineering Education and Research Center and to provide an interdisciplinary home for Texas Robotics. Under her deanship, the school's annual research expenditure increased from $176 to $199 million. Wood also led efforts to create the position of the Associate Dean for Diversity, Equity, and Inclusion in the school and commissioned Cockrell's first ever DEI report and annual plan.
Wood joined the UT Austin faculty in 1996. In the course of her career at the University, she has held several academic leadership positions including Chair of the Department of Civil, Architectural and Environmental Engineering and Director of the Ferguson Structural Engineering Laboratory. She is a member of the National Academy of Engineering and past president of the American Concrete Institute and has served on federal advisory committees for the Department of Veteran Affairs, the National Earthquake Hazards Reduction Program, and the U.S. Geological Survey. She earned her bachelor's degree in civil engineering from the University of Virginia and her master's degree and doctorate in civil engineering from the University of Illinois at Urbana-Champaign.
Vice President for Research Daniel Jaffe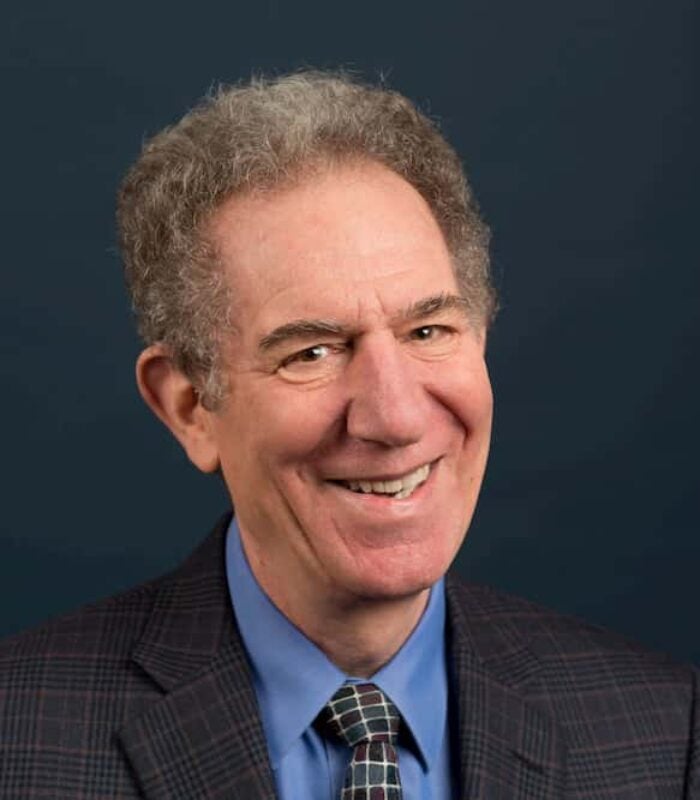 After serving as Interim EVPP from May 2020 to July 2021, Daniel Jaffe returned to his previous position as Vice President for Research. The Office of the Vice President for Research works across the campus to support and expand research activity and capabilities and to create new opportunities for collaboration. This includes making it easier for researchers, scholars, and creative practitioners to design, pursue, and find funding for projects. Jaffe supervised the creation of three cross-campus interdisciplinary initiatives, including Bridging Barriers, a grand-challenge research program that brings together more than 150 researchers from 52 specialties and departments.
Jaffe is the Jane and Roland Blumberg Professor of Astronomy, and his own scholarship focuses on the formation of stars and planetary systems. He is principal investigator for a high-resolution near-infrared spectrometer (currently at the international Gemini South telescope in Chile), as well as for a high-resolution spectrometer for the Giant Magellan Telescope. Jaffe earned his undergraduate, masters, and doctoral degrees from Harvard University.